01.02 – The introduction of driving steam
The upgrade
Oktober 2014, After the coming of TS2015 and some major engines that has been brought out, an update of this guide was needed. Now educational video's are added and some chapters needs to have some reviews as well in order to keep your performance updatet. Some articles has been added to have a better understanding of ongoing apects concerning the technics.
The advantage of Trainsimulator
Is it handy to have TS2015 as a good basical educational study software prior to that proffesion?
Yes is it handy to have. It will introduce you into the world of modern train driving. It will also introduce you into the world of the post steam era as well. Some routes are usefull to get the understanding route knowledge and the basical things, but in practice the effort of TS will pay off and contribute to the job at the railroad compagny.
Take all the time to read this guide over and over again take your advantage on this knowledgements and yes this information is free. Get familiar with all equipment and drive your way around on steam trains.

The vintage of steam
Steam however is playing with thoughts and minds, even those who are not interested in trains at all will stay and watch a steam train passing by on steam specials. It is the way a steam train acts, reacts and works. It is a feeling of steam that keeps up mankind for continuing their motions and acts.
This brief manual will explain some major important issues you have to take care of before you even start to drive. All though this is a simulation you do not want to have a fatal blow back or a priming boiler. This will end your game as well and you can all start over again.
Lets hit the shovel and start to stoke and fire up this amazing wonder of technique. In order to drive a steam locomotive it is necessary to know the basics mathematics and techical aspects of steampower.

Microsoft Train Simulator
The guide is also usefull for MSTS. though check out the keyboard chart when you have not reassign the key assigments in the MSTS game options. When you still use MSTS, you better reassign your keyboard. The left side of an USA standard keyboard (QWERTY) is suited for stoking purposes. The right side the nummeric keyboard is assigned for driving purposes.
The keyboard assignment option is a feature that is lacking in all releases from RS2012 until TS2015
A German 01 Pacific at the Emsland Route. A route created by Germn Railroads. German Railroads provideth some of the beautifullest German Add-On's for MSTS with a variety of highly detailed trains. The route is still available in an DVD box completed with all German routes created by German Railroads for MSTS.
First preparation: Disable the Automatic fireman
Many drivers are switching to Automated Fireman because of the lack of knowledge, understanding and experiance of driving this amazing type of traction. This is unadvisable except you are new to TS2015. Newbie's better start to drive in simple mode. Using simple mode will take care of all things newbie's are unfaliliar with.
When you are new to TS2015, you better start in simple mode. Explore routes with a diesel or electric locomotive before you set of with steam anyway. Practicing steam driving needs a lot of skills, even is this simulator. This guide teach you how to drive and find the right balance between driving and stoking.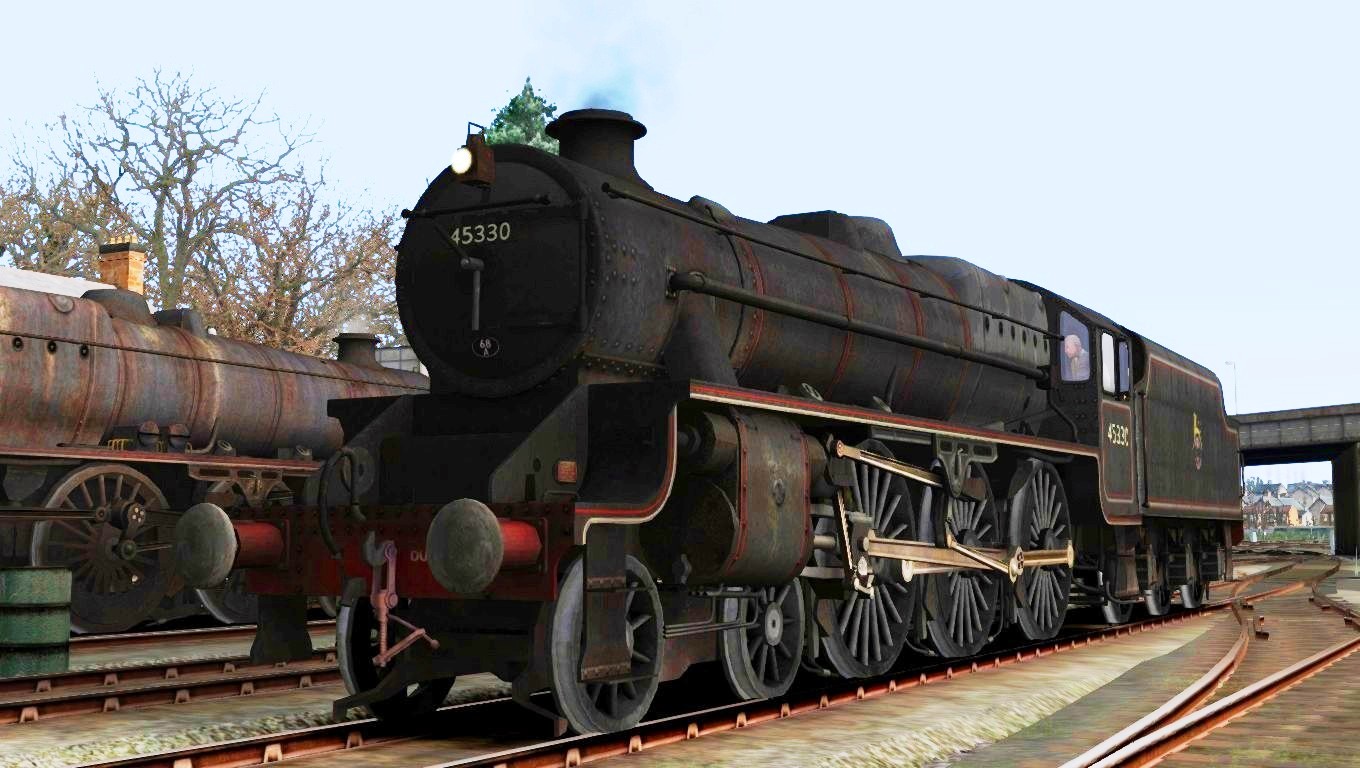 Your Introduction starts here
Take your position at the footplate of the engine and be prepared for your run. In this manual with pictures during a run or from real engines. All basics of driving a steam locomotive is mentioned. When you have tried it all properly and study all the material taking notice of all efforts you will have a major driving experiance. All mentioned issues are taken from Real-Time experiances and examples.
When you are member of a club or society concerning the restoration of steam locomotives, you then have a good and proper basic to move on. And of corse this is simulation, but the increasement of your knowledge will also increase the fun of this simulating enviroment.
Good start
In order to get the full advantage of manual driving you have to disable some features in the game option of TS2015
Open TS2015 and go to the option screen

Disable the automatic fireman by unticking the checkbox and clear the game cache.

Restart TS2015, Choose your engine in a free roam environment or standard environment.

Read carefully the next chapters and start practice all the mentioned methods and issues.

Try to pick up the lessons in theis guide while running a steam train.

The in-game Academy
If you want to learn to drive, you better start with a diesel or electric in the Academy mode to get the best and proper understanding of driving a train. The Academy shows all basical aspects about diesel and electric engines and even the use of advanced driving methods and signalling issues. The lessons thought concerning driving a steam locomotive by the academy are very basical and does not provide all the information, nor in simple mode, neither in advanced mode. You better do not rely on the Academy. There are quite some issues mentioned that does't fit the real way of driving the steam locomotive. 
Drive like an expert here is the example
Like an expert
You goal is to drive like an expert. This will improve your knowledge and skills and you are actually ready to become a real engine-driver after all.
Want to learn more? Do you want to make train driving your proffession?
then move on to Chapter 12 and read what is needed to get on that train, but……
Do not go too fast and nerving yourself.
Failed? Don't worry just start over again.
Sincerely,
R.C. de Visser – Steamtrains unlimited
Mr. R.C. de Visser during a firemans shift on a open day at the depot in 2004

Copyrights: 
All rights reserved by Steamtrains Unlimited – R.C. de Visser
The use of pictures, images, photo's, graphics, drawings, diagrams, screenshots and video footages are permitted by restrictive conditions only: to present and show for educational purposes concerning this guide.